The God Revealed in Jesus Christ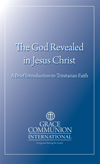 In Jesus' words and actions, we hear and see what matters most to every human being—that the Father loves us unconditionally. He sent Jesus out of his immeasurable love and his unbending commitment to human redemption. To know Jesus is to know God. This is a brief introduction to Trinitarian theology. To read it online, click here. To download a copy, click a link: PDF / ePub / mobi.
---
Statement of Beliefs

As a Spirit-led body of believers, the church is exhorted, "Grow in the grace and knowledge of our Lord and Savior Jesus Christ" (2 Peter 3:18). The Spirit of God leads the church into all truth (John 16:13). Accordingly, this Statement of Beliefs is not a closed creed. Grace Communion International constantly renews its commitment to truth and deeper understanding and responds to God's guidance in its beliefs and practices. To read it online, click here.
---
We Believe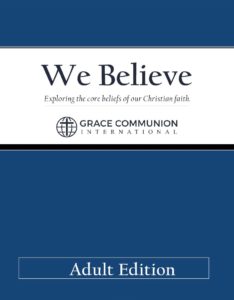 We Believe is a question-and-answer formatted tool to use in teaching the basics of the Christian faith to adults, teens and older children. Following the outline and content of the Nicene Creed, We Believe is grounded in GCI's Statement of Beliefs and expresses GCI's incarnational Trinitarian theology. We Believe is available in three editions—to read them online or to download them in PDF, click here.
---
The Christian Sabbath

The law, including the Ten Commandments, was given to Israel, for a specific period of time—the time from their encounter with God on Sinai until the coming of Jesus the Messiah. Once Jesus came, a new law came in—the law of Christ. It was a new arrangement between God and humans, and it was not restricted to the Israelites. It was a covenant with all people. When this "new deal" came in, the "old deal" expired. To read the booklet online, click here.
---
Evangelism brochure
Here is a tri-fold brochure that gives a step-by-step presentation of the gospel of God's grace in Jesus Christ. This evangelistic tract is grounded in Scripture as understood through the lens of incarnational Trinitarian theology. Click on the image at left to download this tract in Word for Windows. Click here to view it online. To download another similar tract, click here.
---
Sabbath, Circumcision, and Tithing: Which Laws Apply to Christians?
This book by Michael Morrison addresses a question that many Christians have had. To read it online, click here.
---
Transformed by Truth: The Worldwide Church of God Embraces Historic Christianity
This book by Joseph Tkach documents a defining transition in the history of Grace Communion International. To read it online, click here.
---
Shorter booklets