Christian Living Stories: Malawi Summer
---
They didn't know the country. They didn't know each other. But for Carrie, Alberta and Kayla, a summer spent teaching in a school in Malawi proved to be the experience of a lifetime.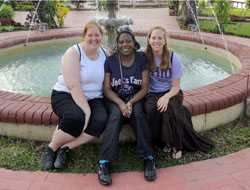 Carrie of Pennsylvania, Alberta of England, and Kayla (myself) of Ohio. We started off as complete strangers but parted as close friends.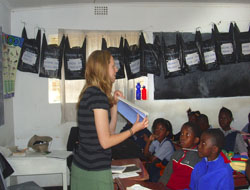 Teaching in these classrooms was unlike any teaching experience I've had. Each class consisted of 50-70 students, compared to the 25 I'm used to from America! The three of us faced many challenges while teaching, as we learned how to adapt to a large class size, a new curriculum, different discipline strategies, and a different overall approach to teaching. We saw the challenges as opportunities to learn, and I think we all did. We learned from the teachers we observed and taught with, as well as from the students. On one of our last days, the Deputy Headmaster told me that the teachers felt like they had learned new teaching strategies from us as well.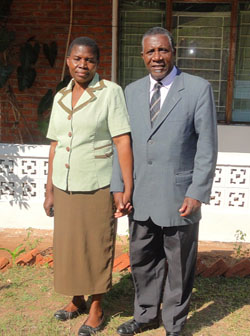 Pastor Nihaka (One of the local pastors and the director of the school) and his wife took care of us while we were there. They provided us with food and accommodations and did everything they could to make us feel welcomed and comfortable.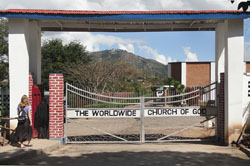 These gates led to the school, Young Ambassadors Primary School and the church hall, which was also used for school purposes. The school was started by the church in 1996 with only 2 students. It now has about 400 students and consists of a Nursery class, Reception, and Standards 1-7. It is where we gladly spent most of our time! Conveniently, the house we stayed in was just behind these gates and down a small hill, still considered to be on school grounds.
This picture is of my cooperating teacher in Standard 5, Isaac, myself, and all of the Standard 5 students. It took me quite a while to learn all of their names—but I felt accomplished when I did! Each of these children became so dear to me. I loved sharing what I knew with them, but I think I learned even more from them. Saying goodbye to this class was the hardest of all my goodbyes!
Here we are with most of the teachers in the school. We really appreciated how welcoming all of the teachers were. They opened up their classrooms to us and trusted us with their students, which we were very grateful for. Many of the teachers also helped us with lessons or problems we were having in the classroom.
Church always involved a lot of singing and dancing. We had so much fun! Many of the people in the congregation only spoke Chichewa, Malawi's national language, so communication was often a challenge. Regardless, we always felt welcomed and accepted by everyone. It was amazing realizing that halfway across the world and in a different language, we all still belong to the same church and worship the same God.
We were constantly overwhelmed by the hospitality and generosity of the Malawians. They provided us with everything we needed, and more. They took care of us when we got sick, they took us out on trips to see the country, they brought us candles when the electricity went out, they made sure we never went hungry, and best of all—they always treated us with love.
I believe that God used our trip in many ways and I hope that it impacted others as much as it impacted me. Alberta, Carrie, and I all went over for the purpose of teaching, although we realized that our mission extended further than only with the school. For me though, it was always about the children. I fell in love with every child I met and I tried my best to share that love with them. I will never forget the songs, smiles, hugs, and laughter from all of these amazing children.
Author: Kayla Shallenberger
Help us provide more content like this by giving today
Donate