The Bible: Words of Wisdom and Praise
---
Now we arrive at the "poetical books" or "wisdom literature." Now we turn from God's relationship with the nation of Israel and to books that show how God also works with people on a personal level.
The wisdom books or writings are filled with spiritual insight, and they offer much inspiration and encouragement. Through the centuries, readers have received special comfort and direction from these books.
Job
First is the story of Job. Job was a wealthy, God-fearing man, "blameless and upright" (Job 1:8). Satan accused him of being faithful to God only because of the prosperity he enjoyed. The message is relevant today, too: Will we worship God only if we get physical benefits from it?
God allowed Satan to destroy Job's possessions, his family and finally his health. Although in physical agony and mental despair, job remained steadfast in his loyalty to God (Job 2:10).
A group of friends tried to comfort Job in speeches that cover the next 35 chapters of the book. Their understanding of God is exposed as inadequate and misleading. It was through God's direct intervention that Job finally came to learn that God is deeper than he could understand.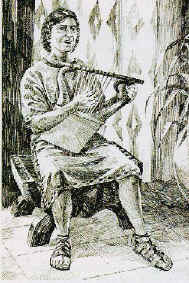 Praise him with the harp – Psalm 33:2
Psalms
The longest book in the Bible is a collection of poems, songs and prayers on a wide variety of subjects. Many of them were written by David, king of Israel; others were written or edited much later.
The Psalms reflect many moods — happiness, fear, frustration, complaint, triumph, gratitude and even feelings of despair and defeat. It has feelings that each of us can identify with. This book is a delightful and rewarding stop on our tour — an often inspiring source of instruction, encouragement and comfort.
Proverbs
Proverbs is a collection of wise sayings, most of them compiled by Solomon, according to Jewish traditions. This book is a concentrated course in common sense, covering wealth, family relations, business ethics, getting along with others, personal success and much more. Some proverbs are humorous, others profound. Some may seem obscure, requiring thought before their meaning becomes clear; others express common sense.
Proverbs, like Psalms, tends to become a personal part of the Bible for most readers, so come back and explore later.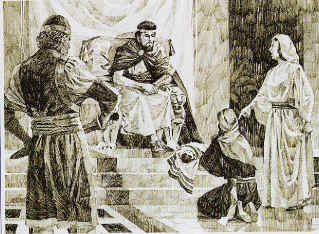 "Divide the living child in two" – 1 Kings 3:25
Uncommon sense
A gold mine of wisdom and common sense, the book of Proverbs is filled with witty, humorous and profound truths that can help us lead more productive and satisfying lives. Here are some examples:
"Let love and faithfulness never leave you; bind them around your neck, write them on the tablet of your heart. Then you will win favor and a good name in the sight of God and man." (Prov. 3:3-4).
"As vinegar to the teeth and smoke to the eyes, so is a sluggard to those who send him" (Prov. 10:26).
"An anxious heart weighs a man down, but a kind word cheers him up" (Prov. 12:25).
"Dishonest money dwindles away, but he who gathers money little by little makes it grow" (Prov. 13:11).
"There is a way that seems right to a man, but in the end it leads to death" (Prov. 14:12).
"Gray hair is a crown of splendor; it is attained by a righteous life" (Prov. 16:31).
"Even a fool is thought wise if he keeps silent, and discerning if he holds his tongue" (Prov. 17:28).
"An offended brother is more unyielding than a fortified city, and disputes are like the barred gates of a citadel" (Prov. 18:19).
"Houses and wealth are inherited from parents, but a prudent wife is from the Lord" (Prov. 20:14).
"If a man shuts his ears to the cry of the poor, he too will cry out and not be answered" (Prov. 21:13).
"Train a child in the way he should go, and when he is old he will not turn from it" (Prov. 22:6).
"Like a bad tooth or a lame foot is reliance on the unfaithful in times of trouble" (Prov. 25:19).
"Like a roaring lion or a charging bear is a wicked man ruling over a helpless people" (Prov. 28:15).
"For as churning the milk produces butter, and as twisting the nose produces blood, so stirring up anger produces strife" (Prov. 30:33).
"A wife of noble character who can find? She is worth far more than rubies. Her husband has full confidence in her and lacks nothing of value. She brings him good, not harm, all the days of her life" (Prov. 31:10-12).
Ecclesiastes
Next we find a short book with the strange name Ecclesiastes, a Greek word meaning "preacher."
The book describes the leader of a strong and prosperous nation who was able to have and do everything he wanted, yet he did not find lasting satisfaction. The book concludes that for ultimate fulfillment, humans need a personal relationship with God:
"Now all has been heard; here is the conclusion of the matter: Fear God and keep his commandments, for this is the whole duty of man. For God will bring every deed into judgment, including every hidden thing, whether it is good or evil" (Ecclesiastes 12:13-14).
Song of Songs
The Song of Songs, also called the Song of Solomon, bears this name because of its poetic beauty. It is exquisite poetry about sensual love and devotion between a man and a woman.
Its sensuality has often caused embarrassment for scholars, and it has often been taken to picture the love between God and Israel and the love between Christ and the church. The book is noted for both its artistic merits and the message it contains.
---
Psamples From the Psalms
The book of Psalms has brought comfort and encouragement to people throughout the ages. There are a few verses from the Bible's longest book:
"Blessed is the man who does not walk in the counsel of the wicked or stand in the way of sinners or sit in the seat of mockers. But his delight is in the law of the Lord, and on his law he meditates day and night" (Ps. 1:1-2).
"May the words of my mouth and the meditation of my heart be pleasing in your sight, O Lord, my Rock and my Redeemer" (Ps. 19:14).
"Whoever of you loves life and desires to see many good days, keep your tongue from evil and your lips from speaking lies. Turn from evil and do good; seek peace and pursue it" (Ps. 34:12-14).
"Delight yourself in the Lord and he will give you the desires of your heart. Commit your way to the Lord; trust in him and he will do this (Ps. 37:4-5).
"Why are you downcast, O my soul? Why so disturbed within me? Put your hope in God, for I will yet praise him, my Savior" (Ps. 42:5).
"You know my folly, O God; my guilt is not hidden from you" (Ps. 69:5).
"I am poor and needy; come quickly to me, O God. You are my help and my deliverer; O Lord, do not delay" (Ps. 70:5).
"Praise the Lord. Give thanks to the Lord, for he is good; his love endures forever" (Ps. 106:1).
"Teach me, O Lord, to follow your decrees; then I will keep them to the end. Give me understanding, and I will keep your law and obey it with all my heart" (Ps. 119:33-34).
"A song of ascents. Of Solomon. Unless the Lord builds the house, its builders labor in vain. Unless the Lord watches over the city, the watchmen stand guard in vain. In vain you rise early and stay up late, toiling for food to eat for he grants sleep to those he loves" (Ps. 127:1-2).
"How good and pleasant it is when brothers live together in unity!" (Ps. 133:1).
"I praise you because I am fearfully and wonderfully made; your works are wonderful, I know that full well" (Ps. 139:14).
This article was written in 1991, and updated in 2001.
Next chapter: Hear Today, or Gone Tomorrow! The Prophets
Author: John Halford
Help us provide more content like this by giving today
Donate