Christian Living Stories: Standing Fast in Hope as Haiti's Misery Continues
---
In 2010, the small, poverty-ridden Caribbean nation of Haiti was struck with a crippling earthquake, soon followed by a devastating hurricane and a resulting outbreak of cholera, all accompanied by the ever-present political unrest and a general breakdown of social order.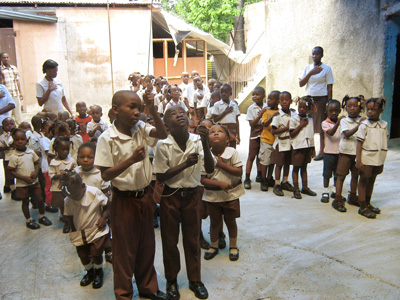 To help children recover from the trauma, and to regain a sense of normalcy, routine activities, like raising the flag every morning, are very important.
GCI has several small congregations in Haiti and operates a small school in the capital city of Port-au-Prince. We spoke with Pastor Joseph Franklin about how things are going for our members and for the struggling nation.
Christian Odyssey: Would you describe that moment at 4:55 pm on the evening of January 12 when the earthquake struck?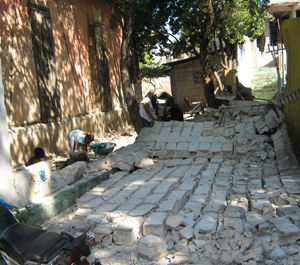 One of the walls that surround the school collapsed. Fortunately no one was hurt. Ours was one of the few schools in Port au Prince not to suffer extensive damage. Many were entirely destroyed.
Although the classrooms were not seriously damaged, many children are still afraid to be under solid roofs. Much of the school's classes and other activities take place outside or under tarpaulins.
Joseph Franklin: The earth shook for about 30 seconds. My wife, our helper and I were blessed with the chance to get out of the house. Billy, our younger son, was caught in the street nearby. Thanks to God, he managed to reach home after a few minutes.
We spent two nights sleeping outside. We live in an area where the houses are not crowded together and have back and front yards, so we were comparatively less exposed to danger. In downtown Port-au-Prince, unfortunately, the buildings are crowded together. When they collapsed, they did not leave any space for people to escape. That was the main cause of such a high loss of life.
From the top of the hill where we live, we could look over the town. It looked like a huge pile of crushed carton boxes. The first estimation calculated the number of deaths at 300,000. That number was far from the reality. It became evident that perhaps as many as half a million inhabitants in Port-au-Prince perished under the debris.
We can predict a hurricane—even give it a name and determine its trajectory. But an earthquake is a different story. You cannot know if or when the earth is going to tremble under your heels. It's sudden and it's horrifying.
CO: How are things now, one year after the earthquake?
JF: There has not been much improvement. In less than a year we have experienced a hurricane, the cholera epidemic, increasing criminal activity and political unrest. Essential services are still unreliable. Every single institution existing in this country has received its share of the adversities. The general condition has gotten even more agonizing for individuals and for institutions alike. Governments, non-governmental organizations, churches, schools, the university—all are struggling to keep going.
CO: Is the situation in Haiti hopeless?
JF: It all depends on how you look at it. You can see difficulties in every opportunity or opportunities in every difficulty. Those who still have a vision say that it doesn't make sense to give up, but it makes a lot of sense to stand fast.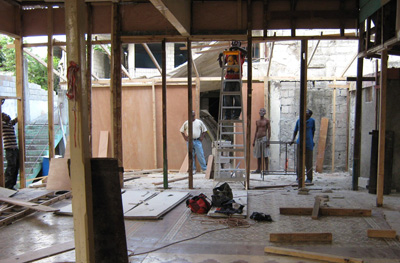 Although our old church building was shaken, it remained standing. The interior had to be gutted and refinished. There was only minor damage to the other school buildings.
By the grace of our faithful Lord, our little local church is strong. In French we often use this proverb: "C'est par la tete que pourrit le poisson." (The fish only rots from the head.) The Body of Christ will stay sane as long as it stays attached to its head, Jesus Christ. Unfortunately, Christians sometimes are tempted to give up in frustration. Frustration is human, but giving way to it may lead to forgetting the abundance of the grace of God. The secret is not letting our frustrations obscure our vision of the kingdom.
David said that when he walked in the valley of the shadow of death, he was not afraid, because the faithful shepherd (Jesus) walked with him (Psalm 23:4).This is especially comforting because verse 6 says that walking with the Lord in the valley of the shadow of death leads to grace and happiness. Who could turn away from the path to grace and happiness? The members have lost belongings, but they have stayed strong in spirit. They have not lost hope. They have learned to stand on the Lord's promises and to count their blessings one by one.
CO: Our school was one of the few in Port au Prince to escape major damage. Have you been able to reopen?
JF: Our school's concrete buildings were well built. They were partly damaged, but not as much as the wood building where the church meets. Nevertheless, we have been able to repair the wood building, thanks to financial help from our brothers and sisters around the world made through the home office.
At the end of March we launched a four-month program for the children of the community around the school. It was a special session of psychosocial assistance to help the children get over the trauma and prepare for when things get back to normal.
The 2010-2011 academic year began on October 11 in spite of the political uncertainty prior to the elections. We opened with 80 children from a list of 134. We expect to have most of the rest of them return for the second quarter.
The situation is still very unstable. We have to take it day by day. But we pray for a peaceful political atmosphere next year. We trust everything to the mighty hand of God. We ask that everyone in our churches around the world please not neglect their prayers for us in Haiti. The prayers of our brothers and sisters everywhere have already brought forth abundant fruit, and we praise and thank God for them.
Help us provide more content like this by giving today
Donate