Christian Living Stories: She Made Home Happy
---
An important lesson from an unusual epitaph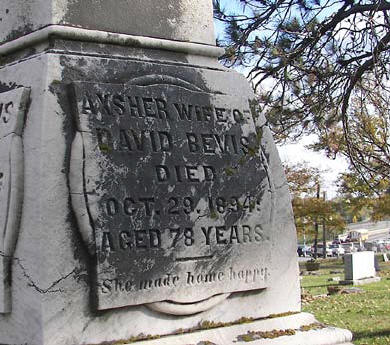 "Axsher. Now there's a name for your baby," I teased. Pausing before a prominent graveyard monument, my pregnant friend laughed and said, "I'll have to think about that one."
Although we were visiting the pioneer cemetery to study local history, we also found ourselves chuckling over unusual names. Standing in warm sunlight and touched by a light breeze, we continued to inspect the marker's chiseled words:
Axsher, wife of
David Bevis.
Died October 29, 1894
Aged 78 years.
Then in a hushed moment of discovery, when even the breeze seemed to stand still, we were jolted by the epitaph:
She made home happy.
"She made home happy." My heart skipped a beat. A recent memory of a time in which my home hadn't been all that happy popped in my head. Who was this woman for whom such a testimony could be engraved in stone? Intrigued, I went home determined to learn about Axsher Bevis.
A bit of research revealed interesting facts. In 1816, Axsher Bevis was born Axsher Stout, the fourth of 12 children. In 1836, she married David Bevis, himself the fourth of 12 children. Together they had 12 children of their own!
Further investigation showed that Axsher married into an active extended family that owned several businesses, including a hotel, general store, and sawmill. And by 1860, Axsher faced the
turbulent Civil War years with army-aged sons, married daughters, and eight younger children, including an infant. Yet with all her responsibilities — mine pale in comparison—she was remembered for making home happy. What was her secret?
I stumbled upon a convincing possibility in a quiet obscure fact. In 1842, the Bevis family donated land for a church to be built. Axsher was one of the church's original members. And in
family historical notes, a grandson fondly remembered how the family was "accustomed to gather" in Axsher's home on Sundays after church.
Axsher's legacy was rooted in a Christian heritage. This discovery stirred my imagination. I began to picture her in her (few) quiet moments with an opened Bible before her. What verses, I
wondered, inspired her most? Perhaps ones like Philippians 4:4: "Rejoice in the Lord always. I will say it again: Rejoice!" Or maybe 1 Thessalonians 5:16-18: "Be joyful always; pray continually; give thanks in all circumstances." I could almost hear the music: "Is anyone happy? Let him sing songs of praise" (James 5:13). Verses on kindness, forgiveness and love would have influenced her as well. The key to Axsher's happy home, I concluded, was her faith in God's word.
Of course Axsher's life would not have been all song and smiles. She'd have had her share of hurts and loss. But Axsher's faith would have taken her beyond just inspiration. Her faith, coupled with hope, would have led her to Jesus, the "author and perfecter of our faith who for the joy set before him endured the cross" (Romans 12:2). In him Axsher would find true joy—the master key to a happy home.
Incidentally, conclusive evidence could not be found on the origin of Axsher's name. But I learned that a close form, Asher, means "happy one" in Hebrew. What a coincidence!
Axsher. An unusual name and a curious inscription led from one woman's inspirational legacy to a valuable personal reminder. A happy home comes from God's word imbedded in our hearts and lived out daily through his presence and promise. And though the epitaph "she made home happy"
may never be chiseled on my stone — or yours — we can look forward to the day when we hear the most desired words of all: "Well done, good and faithful servant…come and share your master's happiness" (Matthew 25:21).
Author: Kenda Turner
Help us provide more content like this by giving today
Donate