Christian Living Stories: Portrait of a Woman and Jesus
---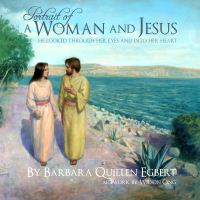 We interview Barbara Quillen Egbert, who published Portrait of a Woman and Jesus.
Q: Why did you write Portrait of a Woman and Jesus?
Barbara Egbert: Over a decade ago, I had a vivid dream of a personal encounter with Jesus. During this period of my life, I was seeking a more intimate relationship with Jesus and began to explore the stories of his interaction with women. It occurred to me that the way my dream played out provided a unique structure for a book. I began to visualize the various encounters with Jesus by imagining how the scene was set up and what a painting that captured what the moment might look like when the eyes of the woman and Jesus met. Thus, the vision for the book was born and I began to write out of pure excitement.
Q: Many books have been written about women and Jesus. What's different about your work?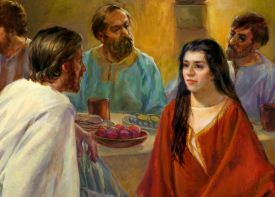 Above, "Mary's Expression of Devotion." Below, "Encounter With the Risen Jesus." All illustrations are by Wilson Ong, cropped from the book Portrait of a Woman and Jesus, by Barbara Quillen Egbert. Used by permission.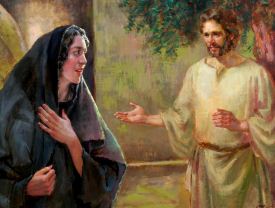 BE: It's the combination of artwork and text that draws readers into the stories of Jesus' encounters with women in an open, down-to-earth way. My goal was to present the reality of the lives of these biblical women as they dealt with the same issues that we deal with today—failing health, grief, shame, insignificance, loss, guilt and insecurity. By capturing visually what it might have looked like when "real" women with "real" issues met the "real" Son of God, I prayed that readers would relate to Scripture with a renewed perspective.
Q: You added what you call a "journeybook" to go with the main book. Tell us about that.
BE: My initial vision of the project was a book that highlights stories about women's encounters with Jesus. So Portrait demonstrates visually and through the text how "He looked through her eyes and into her heart." But as I became acquainted with each biblical woman, there were many thoughts that surfaced in relation to how I personally identified with them. So I envisioned a companion book (a journeybook) that would help a reader deepen her relationship with Jesus by showing her that "He looks through your eyes and into your heart."
| | |
| --- | --- |
| | |
| "The Deliverance of a Crippled Woman" | "A Woman Fully Known" |
Jesus desires restoration and wholeness in all areas of our lives, and the journeybook is a way of helping readers know him as their "all in all"—as Savior, Provider, Comforter, Redeemer, Forgiver and Friend.
Q: Some might feel the book is a bit expensive. Most "Bible help" type books are paperback, while Portrait of a Woman and Jesus is a quality coffee-table book. Why did you choose that format?
BE: It has always been my vision for the book to be a hardbound, coffee-table book that showcases full-color, high-quality artwork on glossy paper. The visual impact of the beautiful scenes of Jesus interacting with women underscores the scriptural account and text, impacting the reader in a fresh way. It gives me great joy to watch a reader open the book, smell the print, feel the glossy paper and "ooh and ahh" while leafing from page to page of artwork. "Wow! It's so beautiful!" is the most common response I hear.
Q: The illustrations are outstanding. What is the story behind that art?
BE: I didn't have a clue where to find an artist who could capture the visions in my head. But God knew! After the text was written, he led me to Wilson Ong, a gifted artist who identified with the life of Christ. It was important that the artwork convey the strength and kindness of Jesus, who was a Jewish carpenter and a teacher, and portray him as realistically as possible within the context of the time of the scriptural accounts.
It was so exciting to see the first round of pencil sketches of the scenes. My vision for the artwork was actually coming to life! After many months, the individual paintings were finally completed, surpassing my expectations. I love how the artist has captured Jesus present and engaged with each woman, looking at her with tenderness and compassion.
Q: How does one get a copy of Portrait of a Woman and Jesus and the journeybook?
BE: There are currently a couple ways to order the book and journeybook:
1. Amazon.com 2. through my publisher, New Voice Publications at nvpub.net
About the artist: Wilson Jay Ong grew up in the San Francisco Bay Area and received a BFA from Brigham Young University and afterward attended the Art Students' League. In addition to being a professional artist and illustrator since 1983, Wilson has taught art, presented workshops and exhibited his work nationally. He and his family currently live in Corning, New York.
Help us provide more content like this by giving today
Donate