Christian Living Stories: Mom, I'm So Proud of You!
---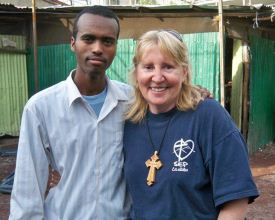 Mary with Melonen, one of the art students she taught while in Addis Abbaba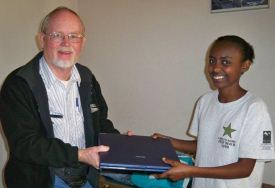 Cliff presenting one of our college students, Eskedar, with a laptop to help her in her education.
Cliff and Mary with some of the children from Hanna's.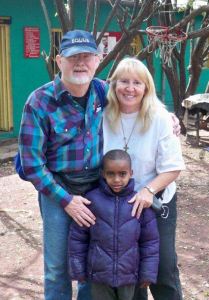 Cliff and Mary with Yonus, who has HIV/AIDS.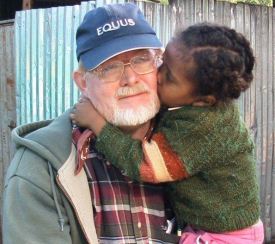 Kalkidar loving on her Papa.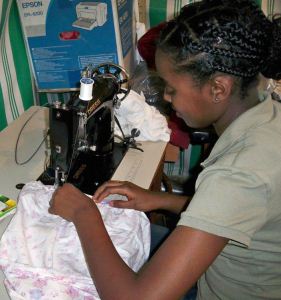 Bethlehem learning to sew in the Vocational Training Center at Hanna's.
Cliff with Fregenet and Tigist. Cliff and I sponsor Fregenet through Hanna's Orphan Home.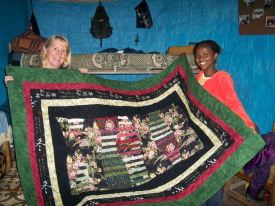 Mary giving a quilt to Fregenet, who shares her top bunk with Tigist. They had only one blanket to share until they were given this hand-made quilt donated by Cliff and Mary's neighbor.
When my mother, Mary, was 5, her mother told her to clean up her plate and not waste one bite because "there are children in Africa who are starving." With the simple logic and honesty of a 5-year old, she instantly responded, "Well, let's give this food to them!"
Time passed. Mom grew up, married and had a family of her own. It was not an easy life. She had years of struggle and hardship, personal pain and little financial security. In the midst of her trials, Mom discovered the love of Christ, and a new journey began.
For a time, her faith in what God had done for her was enough. She enjoyed her blessings and she was able to stay calm in the storms of life, confident in her Lord's ever presence. But the time came when Mom felt the calling for more.
One day, when Mom was 46 years old, her husband, Cliff, asked her, "If time and money were of no importance, what would you do?" Without hesitation, Mom replied, "Go to Africa and adopt twelve children." Her answer surprised her as much as it surprised those who heard it. Although she was living in the mountains of Colorado, Africa was on her heart, but she didn't know why. She trusted that God would reveal that when it was time.
One day soon after, Cliff came across a book about the plight of AIDS orphans in Ethiopia and gave it to her. The story broke her heart. For two years, Mom and Cliff planned and saved for the trip of lifetime. They joined a trip organized by a small non-profit group that arranged for Ethiopian orphans to be adopted.
Their tour took them to orphanages in the capital, Addis Ababa, and several surrounding cities. One day they came to an orphanage that was not sponsored by American adoption agencies. Mom remembers, "My heart sank as the little children were herded into a large tent. I noticed that the teenagers were left around the edges of the compound. I could feel Jesus pushing me toward these older orphans, as if he were saying, "They are why you are here."
Mom resisted for a moment, and then jumped in with both feet. She walked up to a young man, stuck out her hand and said, "My name is Mary, what is your name?"
"Assefa," he replied.
"What are you going to study when you go to college?" she asked. Assefa's head dropped as he replied "Lady, we don't go to college. We are orphans."
She asked again. "Assefa, what are you going to study in college?"
"Lady, you don't understand, orphans don't go to college," he replied adamantly. Mom persisted, "Assefa, what are you going to study when you go to college?"
This time he raised his head, smiled and answered, "I want to be a doctor. My father and mother died of AIDS, and then I cared for my brother and sister while they died of AIDS. I want to be a doctor and cure AIDS."
At that moment, Mom knew God had sent her to that orphanage for a specific reason, and that reason was standing in front of her. God was asking her to be his feet, his hands and his love for these older teens that no one wanted to adopt.
Today, six years later, Mom is co-founder of the nonprofit organization, HE4EO (Higher Education 4 Ethiopian's Orphans). This organization provides financial scholarships for older orphans to attend college. Each year she travels to Ethiopia to enroll older students into college and provide clothing and other needs. When Mom said she wanted to adopt twelve kids, she greatly underestimated the number.
Mom and Cliff continue to visit Ethiopia, taking with them sewing machines, looms and woodworking tools, so they can offer vocational training for orphans not qualified to go to college. Even more important, they bring their love. These young people have a strong desire to give someone the great love they have in their hearts.
"I never knew love like that until I went to the orphanages," Mom told me. "We spend countless hours just talking to the orphans and listening to their stories, their hope and their dreams, as well as praying with them. These young people crave time and attention. Twenty-three hours on a plane, sleeping in a not-so-clean guest house, eating food I really don't like much, breathing polluted air, bathing in not-so-clean water, sometimes wearing your clothes for days and hardly ever getting a good night's sleep is a small price to pay for the difference we make in each life that we are so blessed to touch."
Mom's life has taught me that the gospel is not just good news about salvation. It is an invitation to join God in what he is already doing, building his kingdom of love and doing his will "on earth as it is in heaven."
Author: Julie Frantz
Help us provide more content like this by giving today
Donate