Christian Living Stories: Loving Them to the End
---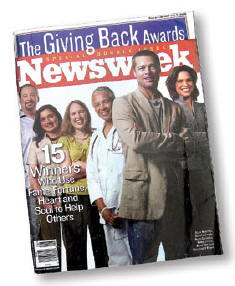 Ruby Jones seems in no hurry to tell me why she was on the front cover of Newsweek (July 10, 2006). This quiet, dignified lady was listed, along with some of America's rich and famous, as a person "who used fame, fortune, heart and soul to help others." Ruby doesn't have fame or fortune. But she does have heart and soul—and faith. And she used them mightily when Hurricane Katrina slammed into Louisiana last year.
Sixty-seven-year-old Ruby worked as a nurse at the Linda Boggs Medical Center in New Orleans. As the hurricane bore down upon the city, her family begged her to evacuate. But Ruby went to work as usual. It wasn't stubbornness or denial. She was responsible for several elderly patients living out their last days in the hospice unit, and she decided she could not leave them to die alone and uncared for.
For two days, as winds battered the medical center, Ruby stayed with her frail patients, encouraging and reassuring them. The flood waters rose higher, and the power and water supply failed. Doors and windows were ripped off. However, Ruby kept on working, feeding, bathing and serving her patients, promising them she would not forsake them. During those frantic hours three died, but they were cared for until their last breath.
"Ruby had kept her promise to stay with her patients until the very end. But the ordeal was not over."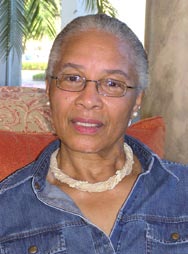 Help arrived on the third day, and five of the remaining patients were able to be evacuated. However, one remained in a coma. Ruby knew the patient did not have many hours left. Under the emergency triage conditions, this patient would not be evacuated, so Ruby stayed with her for one more night.
"How could I leave her?" Ruby explained. "Supposing she woke up from the coma—people do sometimes—and found herself all alone. How could I ever live with myself? I stayed, but I asked God to take her." The lady did finally breathe her last, only a few minutes before the boats came again. So after four days, hungry, thirsty and exhausted, Ruby was able to leave the hospice. She had kept her promise to stay with her patients until the very end. But the ordeal was not over.
Ruby was taken to New Orleans Airport, where she joined the throng of dazed, confused people. Amid the chaos and confusion, and still in her nurse's uniform, she picked up where she left off. Somehow, she found her patients and also two of her elderly relatives. Scrounging what little food, water and medical supplies were available, she began to care for them. As the official relief became overwhelmed, she took on more and more of the elderly and infirm, who saw her uniform and called out for help. She bathed them, changed diapers and looked after them for several more days.
"My faith sustained me," says Ruby. "I remembered scriptures like 'all that I needed your hand has provided,' and they kept me going. I prayed for peace and confidence. I was tired and thirsty, but I was able to keep going even though I didn't sleep for several days. I felt God was working through me. I wasn't in charge."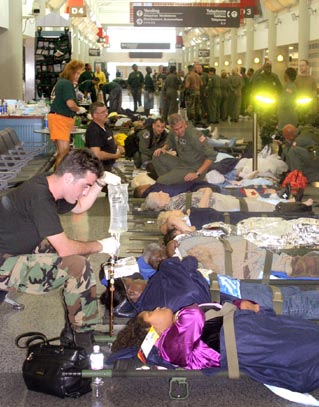 New Orleans Airport during the Katrina emergency.
Finally, she could do no more and was evacuated to a Red Cross shelter in Georgia. Her home was under water, and she had just the clothes she was wearing. Again, all was provided. "Total strangers loaned me a house and a car. Others gave me money to buy clothes. All my needs were taken care of," she says. "God never let me down. Not once. He provided for all my needs. Don't you think that is wonderful?"
That is the story that Ruby wants told. She insists that the real story is not about her personal dedication and heroism. The real story is a testimony of God's faithfulness and compassion, and of how he worked through a humble servant to bring some of his love to those who had lost everything.
Author: John Halford
Help us provide more content like this by giving today
Donate