Short-Term Missions: Hope Floats
---

By Brenda Plonis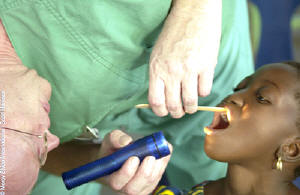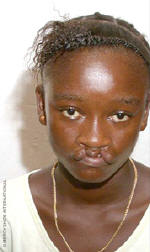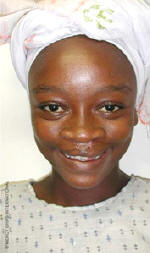 Before (left) and after surgery.
Mercy Ships first captured my attention at an exhibition in the United Kingdom. A picture of a white ship loomed over before and after surgery photos of a baby born with a cleft lip. I thought of my own cleft palate, sewn together in a Western hospital two decades before.
I was fortunate. In a world where cleft lips and palates are the second most common birth defect, my mother gave birth to me in a society where my problem was repairable; hospitals affordable. Many are not. These are the ones Mercy Ships seeks to help—the poorest in lands where health care is but a dream, and poverty is an everyday burden.
Eventually, I boarded the Anastasis to participate in a five-month Discipleship Training School (DTS) program, working in the Communications Department. My team included writers, photographers, videographers, graphic designers and media liaisons. My department tells the public about Mercy Ships, by taking photos, writing stories, hosting media and providing tools such as books and multimedia CDs for crew and staff to use to raise their own support. All crew members onboard pay their own way, from captain to cook, doctors to deckhands, ensuring that donations directed toward the ministry are used for the people we serve.
Sailing with Mercy Ships offered me the chance to visit some of the richest countries in the world, including Norway, Spain, the Netherlands, Germany and the United Kingdom. I also visited some of the poorest—Benin, Togo, Gambia, Senegal and Sierra Leone—the latter of which is ranked as the poorest country in the world, after a decade-long civil war ravaged the land and destroyed the infrastructure.
Those countries rich in material wealth were often just as poor spiritually as the ones we visited for our outreach locations. During my stint as media liaison and writer, I hosted numerous international journalists, radio stations, television crews and photographers from Germany, Holland, South Africa, the United Kingdom and the United States, including Reader's Digest, Dateline NBC and a host of others.
I learned that while we considered Africa our official outreach location, Europe needed to know the good news of the gospel as much as anyone. Every time I hosted a journalist and took one for a tour of the ship, I shared why I chose to use the gifts God gave me to serve the poor.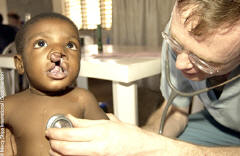 Several weeks after Sept. 11, 2001, a journalist named Rita arrived at the gangway in Rotterdam, Holland. She wanted to know more about Mercy Ships, but as I took her for the usual tour, she explained that she wasn't sure what her angle was going to be for her story—she just knew that she needed to visit the ship that afternoon. For the next two hours, we walked past the displays of photos, we toured the bridge, walked along the promenade deck and discussed religion. She was searching for something in her heart and wanted to know why I believed what I did.
It was one of the first times in my life that someone asked me so directly why I believed what I did. I said that in the midst of the chaos surrounding the world and my life—I know my God is a rock I can cling to. I explained to her when nothing else in the world made sense, Jesus made sense to me. Rita reminded me why God called me to Mercy Ships in the first place—to bring hope to those who need it most. And she reminded me that no matter where we are in the world, we are all on a mission for Jesus.
I often told people onboard I felt my heart was more in Europe than in Africa. While I knew that God called me to the ship, I didn't necessarily feel called to Africa. But returning to Europe every summer for our public relations and procurement phase made me realize why I accepted this job. My heart ached for the teens I saw on the metro (subway) in the United Kingdom, for the workers cycling the streets in Holland, for the partygoers strolling through the streets of Spain—for all of those who did not have a hope to cling to.
I often think of Rita, for to me, she represents the nameless, faceless thousands of people around the world who look like they have it all together on the outside, but internally they have a war with their souls as they search for the truth. I hope by now she's found what she's been looking for. I felt Christ near on that day she came to visit —and I pray she knows Christ now.
_______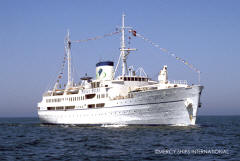 Since the author's first stint on the Anastasis, she has also served Mercy Ships on land, in Washington, D.C., as a grant writer, and also at their head office in East Texas. Several months ago, she returned to the Anastasis to train an all-new communications team, and most recently, transferred to the smallest vessel in the fleet, the Caribbean Mercy, to head up the communications team onboard.
For more information on donating your time, resources or skills to Mercy Ships, check out their web site at www.mercyships.org.
Put people at the heart of ministry
People were at the heart of the ministry of Jesus Christ. He touched the lives of others and let their lives touch him. Ministry to others flowed from him because that was who he was—a ministering servant, someone who lived a life of caring involvement. The condition of people affected him emotionally. Matthew 9:36 records that Jesus was "moved with compassion" for the harassed, weary multitudes.
Our motivation for ministry must, through Christ, be transformed from being duty-driven to being compassion-driven, from results-focused, duty-driven tasks toward relationship-focused, compassion-driven desire. Jesus put people first. How they felt mentally, emotionally, physically and spiritually mattered to him. He entered into their joy and shared in their suffering.
God sees people as important and precious, which is why he seeks to save us and to use us for his great work. How do we view people? Is winning them for Christ just a means to the end of our pleasing God? Or do we view them as God views them—precious people whom we want to serve with compassion? Precious people with whom we want to share the joy of Jesus' love.
Ministry and mission are about relationships, not about tasks. Pray that the Holy Spirit will lead us into Christ-centered relationships. In Jesus' love, may we put people at the heart of our ministry.
By James R. Henderson, mission developer for Africa
Author: Brenda Plonis
Help us provide more content like this by giving today
Donate