Christian Living Stories: Dr. Proverb
---
What do you call a Christian Board Certified Family Physician who created a musical genre called "HealthHop®" as a strategy to educate teens and young adults on the latest medical and "biopsychosocial" information? It's hard to nail down a fitting title because he's like a psalmist speaking proverbs with the convicting vocabulary of a prophet. The title I came up with for Dr. John Clarke of New York City is "Dr. Proverb."
In a recent interview, Dr. Clarke introduced me to his simple, yet profound, approach to Christian ministry. "I use rap music as an indirect marketing technique to promote healthy behavior and a Christian lifestyle." He continued, "I teach without preaching because too often the firewall of the teen mind is set to block out important issues, particularly health-related ones." In our postmodern/post-Christian culture, he accepts his role as a plowman who cultivates the soil of the mind to allow the physical, social, psychological and most importantly, spiritual, seeds of truth to germinate and grow.
Rap lyrics meet medical intervention
His love for writing rap lyrics began when he was 8 years old. He entered the medical profession in the 1980s, after his father suffered kidney failure and his father encouraged both John and his brother, Matthew, to consider the medical field as a career.
As a physician, John was struck by a level of ignorance mixed with skepticism within certain groups in the community at large and felt compelled to do his part to clear the clutter and relieve the resistance. At times, he encountered similar levels of confusion with Christians who struggled to balance roles of faith and medical interventions.
Seeing the need, he chose to demystify confusing medical information and protocols as well as show that medicine and walking in faith don't have to be mutually exclusive. Dr. Clarke rests in the belief that God is our Healer and the One who inspires the scientific community to discover better treatment options. "It's not a lack of faith to choose a medical modality for treatment, because whether you are in a hospital bed or your own bed, God is the true Healer."
How then, would he help bring such knowledge to those who need it? He would add music to the traditional methods of training.
Research based
The use of music to help teach difficult information is validated by research noting the powerful communicative effect on attitudes and behavior of the hearer. Multimedia presentations have been shown to plant information deeper than mere lecture or spoken word. Also bolstering his missionary strategy are studies that suggest teens of all races and genders will listen to approximately 10,500 hours of music between the 7th and 12th grades, which turns out to be just under the "cumulative time spent in the classroom from kindergarten through high school."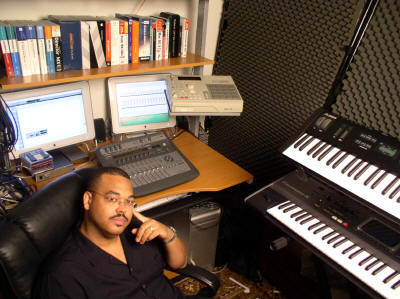 Dr. Clarke uses his music to cut through the misrepresentations that affect youth medically,
socially, and psychologically.
---
"Education is key when it comes to health matters, including general information, treatment compliance and prevention issues." Believing the younger generation is especially at risk, he and his wife, Elizabeth, formed Clarke Multimedia Inc. in 2004 to produce and distribute educational CDs and videos on health topics.
Dr. Clarke targets the 45 million 13- to 34-year-olds that Forbes.com reported in 2004 spent 10 billion dollars annually on Hip Hop music. He tackles issues of teen pregnancy, HIV, eating disorders, violence, drug and alcohol use, allergies, sickle cell anemia, asthma and diabetes with the same poetic potency that King Solomon used in Proverbs, Ecclesiastes and Song of Solomon.
Getting past the barriers
Holding firmly to the conviction that all truth is from God, Dr. Clarke uses HealthHop® Music to cut through the lies and misrepresentations that affect our youth medically, socially, psychologically and relationally. He has no problem allowing his proverbs to bust up the rocky soil of the mind or even pull some weeds, but he plows among those who would be repelled by an overt spiritual call. Like Solomon's lament in Proverbs 5 about the young man who was unaware that he was like an ox going to the slaughter in the hands of a seductress, Dr. Clarke "keeps it real" with songs like "Choose to Live," which deals with depression and suicidal ideation and "Playaz Klub," about the consequences of unhealthy sexual behavior.
Solomon wrote in Ecclesiastes,
"Then I realized that it is good and proper for a man to eat and drink, and to find satisfaction in his toilsome labor under the sun during the few days of life God has given him — for this is his lot. Moreover, when God gives any man wealth and possessions, and enables him to enjoy them, to accept his lot and be happy in his work — this is a gift of God. He seldom reflects on the days of his life, because God keeps him occupied with gladness of heart" (Eccl. 5:18-20).
In the same way, Dr. Clarke recognizes that nothing strips human beings from enjoying life like chronic health challenges. And asthma, diabetes, HIV and other debilitating health issues are often exacerbated by destructive behaviors such as smoking, drug and alcohol use, stress or risky sexual conduct. These weaken the body's defenses, making people even more susceptible to common and seasonal illnesses like the flu.
Swine flu rap
2009 saw the introduction of a virulent strain of swine flu — the H1N1 virus. According the World Health Organization (WHO), there were only 12 cases of human swine flu reported between December 2005 and February 2009. In June, the WHO declared H1N1 to be a pandemic, and as of this writing, the CDC reports that the flu is widespread in 37 U.S. states.
In July 2009 the U.S. Department of Health and Human Services decided to hold a public service announcement (PSA) contest to find innovative ways to spread the word about good hygiene and limiting the spread of H1N1.
With information gathered from Flu.gov, Dr. Clarke put the finishing touches on a song he titled "H1N1 Rap (Stop the H1N1)." His cousin, Hugh Applewhaite, Jr., filmed and edited the video on the campus of Columbia University and Dr. Clarke entered it in the HHS public service announcement contest.
On September 22, 2009, after more than 50,000 votes were cast during an 18-day period, Secretary of the Department of Health and Human Services Kathleen Sebelius informed Dr. Clarke that his video was selected from over 200 submitted as the top PSA by a host of video communications and public health experts. Now, no longer a mere YouTube sensation, "H1N1 Rap" was being shown internationally as a tool to slow the spread of the pandemic.
Kingdom living
Dr. Clarke has since been profiled on CNN, FOX, NBC, WGN and a host of other television and newsprint outlets. He feels blessed and validated in his belief that HealthHop® is evidence that music, and in particular the hip hop genre, is an effective means of influencing behavior and decision-making across all geographic, economic and racial boundaries.
While excited about the award, Dr. Clarke plans to use Healthhopmusic.com and Clarke Multimedia Inc. to demystify illness, educate chronic sufferers, share life-transforming medical information and empower all who will listen to embrace a lifestyle of stewardship of the gift of God we call life.
Solomon concluded Ecclesiastes by saying,
"Not only was the Teacher wise, but also he imparted knowledge to the people. He pondered and searched out and set in order many proverbs. The Teacher searched to find just the right words, and what he wrote was upright and true. The words of the wise are like goads, their collected sayings like firmly embedded nails" (Eccl. 12:9-11).
For Dr. John Clarke, his educational proverbs and songs may be just the bridge needed for the plugged-in, post-Christian culture. He knows what the Doctor of all Doctors has ordered and is content doing his part to provide healthy soil for the heart and mind of the next generation. Offering his services to schools, community organizations, camps and churches, the man known to many as the "Hip-Hop Doctor" is ready to share his message of kingdom living with all who will listen.
Jeff Broadnax pastors several congregations in the New York area.
---
John D. Clarke, MD, FAAFP, is a board-certified family physician practicing in New York City. Currently he serves as the Medical Director and Medical Review Officer for the Long Island Rail Road. He received his B.A. in Sociology and Music from Columbia University and his Medical Degree from The Mount Sinai School of Medicine in New York City. He also pursued training in multimedia design at New York University.
Dr. Clarke lives in Baldwin, New York, with his wife, Elizabeth, RN, MSN, their son John Clarke, Jr., age 3, and daughter, Sandra, age 1.
• Rapper's delight: A billion-dollar industry. Investors finally see lucrative market in hip hop culture: msnbc.msn.com/id/4304261/
• Clarke Multimedia Inc: healthhopmusic.com/dr.htm
• www.whitehouse.gov/blog/Rapping-Doctor-Wins-H1N1-Video-Contest/
• Health-Hop: An Effective Approach to Adolescent and Child Health Education
John D. Clarke, MD & Elizabeth Clarke, RN, MSN
Author: Jeff Broadnax
Help us provide more content like this by giving today
Donate