Christian Living Stories: Buddy – The Mighty Lizard Hunter
---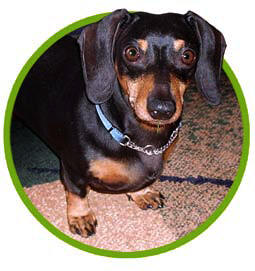 When our children were small, we moved to the Sunshine state with no pets. Most Floridians know that while gators are our official state reptile, there are much smaller and more plentiful reptiles that we step over on a daily basis. They are those quick little lizards that scurry beneath our feet and stare at us from screened porches and lanais.
Sometimes we discover them (too late) dried up in the corner of the living room after they have crept into the house under an exterior door. Florida lizards come in almost all colors, but one of the most common is the Brown Anole.
While talking with her grandparents one day over the phone, our 3-year-old, Brianna, lamented with slight grammatical blurring, "Grandpa, my lonely pet's a lizard!" My wife
and I soon remedied this with the addition of two cockatiels and our first dachshund. The cockatiels didn't last too long, but dachshunds wove their way into our hearts and our family albums ever since. Over the years we have kept at least one dachshund in the family, usually two, but only one is still with us in Florida.
Buddy is our 7-year-old black and tan male whose full-time calling is a search-and-destroy mission on the lizard population. Buddy is truly obsessed by lizards. I have replaced certain
sections of our porch screen umpteen times over the past seven years where he tore his way through trying to snatch a fleet-footed reptile scampering on the other side of the screen. He snorts them out of cracks and crevices and away from their hiding places under shrubbery, palm boots and the shade of landscaping stone. Buddy's pursuit is relentless, and like many a big – game hunter, he likes to display the remains of his trophy, usually right in the path of his master's feet!
But Buddy has not always been this adept at bagging his prey. Early on in his puppy years, he would often grab for any moving part and end up pouncing on a wriggling tail while the rest of
the lizard peeled off into the sunset. (I'm afraid he has since learned to go for the jugular.) The Brown Anole can cast off its tail at will when threatened or molested. The tail "piece" continues to wiggle, attracting the attention of predators such as birds, cats (or dachshunds) while the lizard flees to safety.
The lizards have a single natural weak point in the vertebrae of the tail and a muscle arrangement at that point designed for separation. While the lizard can grow a new tail, it will be cartilage with no bone. His new tail won't have the stripes, colors or other markings of the original and usually appears dark grayish. Since new growth takes time, you can occasionally spot a "stubby tailed" lizard shooting across the sidewalk during his "grow back" period. And if another novice like Buddy happens to get lucky and grab this little fellow again, this same lizard can repeat the process as often as needed to preserve his life. Okay, some of you are probably already ahead of me on this one…
"For whosoever will save his life shall lose it: and whosoever will lose his life for my sake shall find it" (Matthew 16:25).
Neat concept, isn't it? Learning to let go of things we really don't need in order to live another day, older, wiser, and in unique ways quicker (quickened!) as Christians. And although the new growth that replaces our scars may be different from our original spiritual "skin," the source of that growth comes from the one who loves us and is conforming us to the image of his Son. In fact, this new growth is who we really are in Christ! It's who we were always meant to be through the plan of our loving Father.
"Therefore, since we are surrounded by such a great cloud of witnesses, let us throw off everything that hinders and the sin that so easily entangles, and let us run with perseverance
the race marked out for us" (Hebrews 12:1).
Is there anything you have that you can lose in order to break free of that which holds you back? Go ahead. Pull away and live!
Author: Steve Schantz
Help us provide more content like this by giving today
Donate